November Meeting
Jacques Amand
Flowering Bulbs
Jacques Amand arrived in England from the Netherlands some 70 years ago and has been supplying flowering bulbs ever since.
Interestingly, the company started its life as a flower shop in The Strand but it is now firmly established as a supplier of rare, unusual bulbs as well as the firmly established 'house-hold' names.
Jacques son, John, has continued the good work and has considerably expanded the business and not only supplies the home market but exports to India, China, Russia, The United States, Canada and Australia - where he hopes the bulbs come up the right way!
This expertise has been regularly recognised by achieving 32 Gold Medals at The Chelsea Flower Show.
The audience was shown many beautiful slides of various flowering bulbs which come in many shapes and sizes. For example, the Cardiocrinum Gigantia which is a beautifully scented bulbous plant of the lily family from the Himalayas, China, Russia and Japan. It can grow as tall as two and a half metres. If we were looking for a particularly unusual Allium, look no further than the Allium 'Red Mohican' which has unusual maroon-red flower heads with tufts on the top with tiny white flowers, hence the name!
For shady areas, it was suggested we might try the woodland Arisaema tortuosum, known as the whipcord cobra lily- very like our 'Lords and Ladies'. For an early splash of colour look out for Iris 'Katharine Hodgkin'. The flowers are of the palest blue and etched with deep blue veins. Braving even the coldest weather, it will flower in February and March. It has the benefit of spreading over the years and is idea; for planting in rockeries or under trees.
Flowers are a huge commodity in Holland where there are four enormous Flower Markets. We were shown how these flowers were harvested and transported in boxes each holding 100,000 flowers These markets regularly sell in excess of one million flowers daily.
Even the flower industry is not immune to political correctness! John recounted the story of a grower who named a new variety of Tulip....Tulipa Humilis 'Persian Pearl' only for Facebook to refuse to advertise it ....'as they didn't wish to do business with Iran!"
Finally, the audience was given the opportunity to purchase some loved 'old timers' in addition to some rather exotic looking bulbs, with equally exotic sounding names!
Roll on Springtime!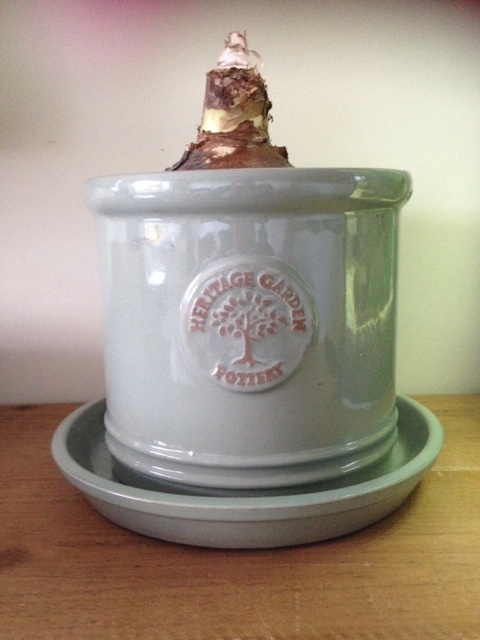 Fiona's rather large bulb