EMGC October 2021 Meeting - Geoff's talk

What a truly wonderful face-to-face Garden Club Meeting, back in The Village Hall last night, which was the first since lockdown. There were around 47 attendees which included some of our new members, returning lapsed members and the usual band of die-hards.

We also welcomed back Geoff Hawkins, who gave us a talk back in 2018 and he certainly came up with the goods again this time with his talk on Herbaceous Borders.


Geoff first asked 'what is an herbaceous plant?
Definitely not a herb, they are vascular plants that have no persistent woody stems above ground, including many perennials and nearly all annuals and bi-annuals.
How did Herbaceous Borders come about?
The Romans gave us symmetrical plants and courtyards and Monasteries decorated theirs with decorative flowers and religious planting*
The Tudors introduced raised beds and Henry V111 preferred sparse planting, within Knot Gardens. The Parterre was first developed in France by Garden Designer Claude Mollet around 1595 when he introduced compartment-patterned parterres to Royal Gardens at Saint Germain-en-Laye and Fontainebleu. This style soon became popular in France and across Europe.
Geoff showed us a slide of what we would consider a typical Devon Garden, idyllic thatched and whitewashed cottage with roses around the door, whereas in reality, the garden would have been for the raising of pigs and poultry and growing fruit and vegetables for the table.
It was during the 19th Century when the Victorians introduced bedding schemes that gardens came 'alive'. Arley Hall and Gardens in Cheshire were created by Rowland and Mary Egerton-Warburton in 1846 and whilst successive generations have added to them, the traditional character remains to this day, including the double Herbaceous Border which was one of the first to be created.
William Robinson - 1838-1935 was an Irish practical gardener whose ideas about wild gardening spurred the movement that led to popularising of the English Cottage Garden. Robinson is credited as an early practitioner of the mixed herbaceous border of hardy perennial plants.
Gertrude Jekyll - 1843-1932 was a horticulturist, gardener, designer, craftswomen, photographer, writer and artist, who created over 400 gardens in the United Kingdom, Europe and the United States and used full colour schemes.
Vita Sackville-West - 1892-1962 - designed gardens depicting different 'rooms', leading from one to another.
Percy Thrower - 1913-1988 was a British gardener, horticulturist, broadcaster and writer and a bust of him can be seen in The Dingle Gardens of the Quarry in Shrewsbury.
Beth Chatton - 1923-2018 was an award-winning plants-women author and lecturer and in 1960 she began work on transforming an overgrown wasteland of brambles and turned it into what is known as Beth Chatto's Plants and Gardens.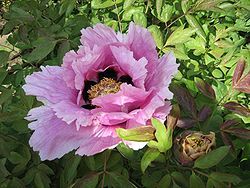 The International Hardy Plant Society was formed in 1957 by a group of eminent gardeners and nurserymen. This is a British Charity promoting cultivation and conservation of hardy herbaceous plants.
Another slide showed Waterperry Gardens which has the traditional 'warm' wall with a classical herbaceous border. The general guide for borders is, tall plants at the back, not so tall in the middle and smaller ones to the front.
Geoff recalled some very recent memories by showing a picture taken at Bramdean House which some Club Members visited only last month. Walking 50 metres or so up the slight slope towards gates in the South wall of the walled garden, you notice the path is flanked by15ft wide mirror image borders which were created by Victoria Wakefield over a 25-year period.
Geoff showed us pictures of Prairi Borders - tall grasses with very little colour,
mixed borders with vertical planting and same colour borders.
He described how tall, vertical yellow plants tend to 'come towards you' whilst colours, pale blue and silvers for instance go away from you, leading your eye into the distance.
He showed how a strategically placed statue, fountain, gate and trees, even a hole in a hedge all lead the eye to another space. A cut hedge that resembles a 'buttress' all make us want to look around and beyond.
*religious plants. I looked these up and here are seven of the most sacred plants in the World…
The Lotus Flower - those educated in the eastern spiritual context, it evokes layers of meaning and narrative. For Hindus, the beautiful flower represents, life, fertility and (as with Buddhists) purity…
Mistletoe - the symbolism dates back to the ancient Celtic Druids who believed that mistletoe represented the essence oof the sun god Taranis
Holy Basil (Ocimum Sanctum) (western world) (in Hinduism the Goddess Vrinda is said to serve Lord Krishna…)
Peyote - is a small spineless cactus growing naturally in the desert in south-western Texas and Mexico and used for spiritual purposes
Yew Tree - long been associated with rebirth and everlasting life and is a symbolic tree in the Christian faith
Marijuana - marijuana holds great religious significance for the Rastafarian religion.
Basil (Ocimum Basilicum) - within regional denominations of Orthodox Christianity, especially in the Greek Church, it is a sacred herb. The name Basil comes from the Greek word for 'kingly' or 'royal'.
Much food for thought.
Pamela