Annual Show 2021
East Meon Garden Club Annual ShowThe Committee had 'hummed and harred' as to whether the Annual Show should go ahead this year in light of the continuing COVID uncertainties, but my goodness, we are delighted we did as your response was so much better than we had expected or hoped for. We decided to reduce the number of classes to avoid too many exhibitors and visitors in the Hall at any one time and this proved highly successful.Despite the dreadfully wet April, the sizzlingly hot spell followed by torrential rain AGAIN, this did nothing to dispel your enthusiasm to support the Show. The vegetable section of course was dominated by Dave (Wyatt) and Alastair (Dudley-Williams) but what a display they produced and good to see the go0d natured competitiveness between these two skilled gardeners. Dave pulled off his second RHS Banksian medal to boot. The Banksian Medal is a very special award and is named after the great scientist Sir Joseph Banks (1743-1820). It is awarded to the exhibitor with the highest number of points in the Horticultural sections, ie the vegetable, fruit and flower growing classes. The Produce and Preserves looked mouth-wateringly delicious,. Sue (Atkinson) won overall but the competition was hot on her heels with the final result nail-bitingly close! The variety of flowers was fantastic, despite being battered by wind, drenched by rain and baked in the sun. It is always encouraging to see new winners and Mary Chaplin won The Novice Shield, The East Meon Flower Cup and Best in Show. The Arts and Crafts section allowed exhibitors to express themselves from needles and paint brushes to blow-torches - what more could be asked for. Val Uden won the John Davies salver in this category. Connie (Caudray) and Olivia (Hickling) shared the Edgebourne Cup in the Flower Arrqanging Category.It was a shame we didn't have any childrens' entries this year but now we have some younger members move into the village we will be looking to them to 'fly the flag' of the younger generation next year.As an additional bonus we had 6 new members signed up on the day, two of whom won 'firsts' in their respective classes, a dish of perfect blueberries and a 'first' each in the sweet pea classes. On behalf of the Committee, may I say a huge 'thank you' to exhibitors and visitors alike who supported us, it certainly made all the hard work worthwhile. All power too respective elbows for 2022 event!Pamels Peacock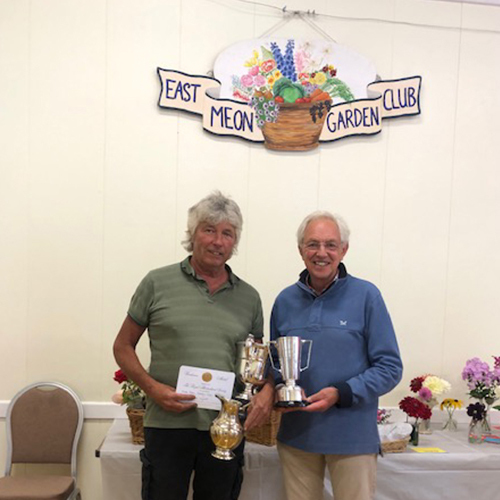 The Banksian Medal was awarded to Dave Wyatt along with the Challenge Cup for Vegetables and Flowers and The Allotment Jug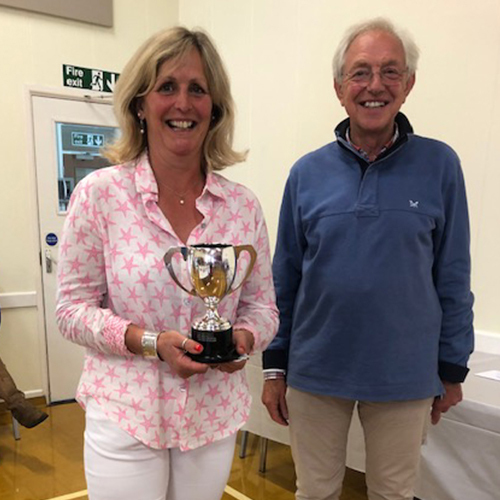 Produce and Preserves Cup won by Sue Atkinson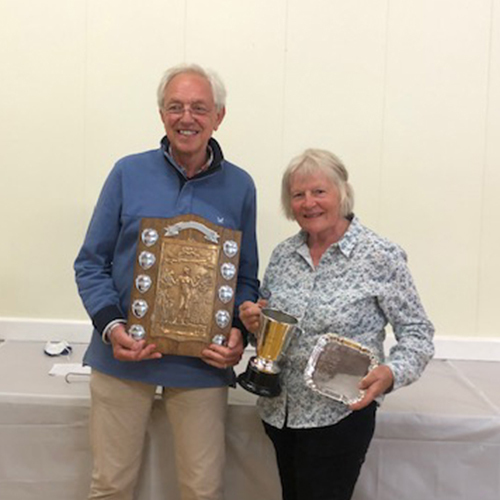 The Novice Shield, The East Meon Flower Cup and Best Exhibit in Show were won by Mary Chaplin
SUNDAY 1ST AUGUST 2021 2:00PM - 4:00PM
The Committee had 'hummed and harred' as to whether the Annual Show should go ahead this year in light of the continuing COVID uncertainties, but my goodness, we are delighted we did as your response was so much better than we had expected or hoped for.
We decided to reduce the number of classes to avoid too many exhibitors and visitors in the Hall at any one time and this proved highly successful.
Despite the dreadfully wet April, the sizzlingly hot spell followed by torrential rain AGAIN, this did nothing to dispel your enthusiasm to support the Show. The vegetable section of course was dominated by Dave (Wyatt) and Alastair (Dudley-Williams) but what a display they produced and good to see the go0d natured competitiveness between these two skilled gardeners. Dave pulled off his second RHS Banksian medal to boot. The Banksian Medal is a very special award and is named after the great scientist Sir Joseph Banks (1743-1820). It is awarded to the exhibitor with the highest number of points in the Horticultural sections, ie the vegetable, fruit and flower growing classes.
The Produce and Preserves looked mouth-wateringly delicious,. Sue (Atkinson) won overall but the competition was hot on her heels with the final result nail-bitingly close! The variety of flowers was fantastic, despite being battered by wind, drenched by rain and baked in the sun. It is always encouraging to see new winners and Mary Chaplin won The Novice Shield, The East Meon Flower Cup and Best in Show. The Arts and Crafts section allowed exhibitors to express themselves from needles and paint brushes to blow-torches - what more could be asked for. Val Uden won the John Davies salver in this category. Connie (Caudray) and Olivia (Hickling) shared the Edgebourne Cup in the Flower Arrqanging Category.
It was a shame we didn't have any childrens' entries this year but now we have some younger members move into the village we will be looking to them to 'fly the flag' of the younger generation next year.
As an additional bonus we had 6 new members signed up on the day, two of whom won 'firsts' in their respective classes, a dish of perfect blueberries and a 'first' each in the sweet pea classes.
On behalf of the Committee, may I say a huge 'thank you' to exhibitors and visitors alike who supported us, it certainly made all the hard work worthwhile. All power too respective elbows for 2022 event!
Pamels Peacock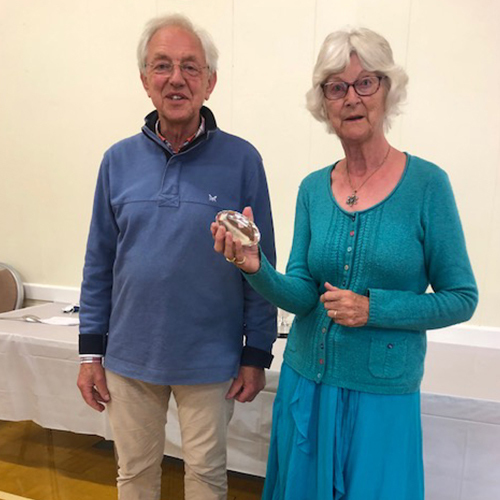 The John Davies Salver won by Val Uden for the Arts and Crafts class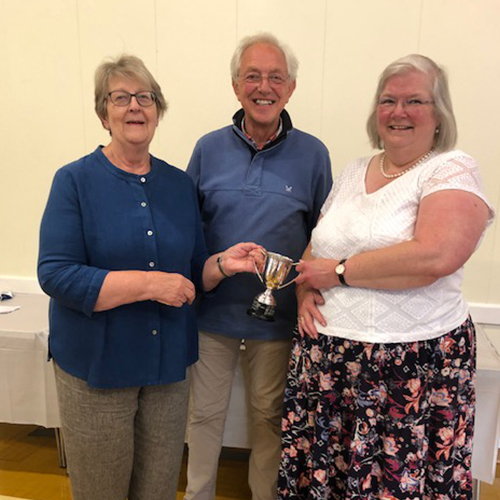 Winners of The Edgebourne Cup - Connie Caudrey and Olivia Hickling for Floral Arranging